Military dog receives animal 'VC' for tackling al-Qaeda insurgents in Afghanistan
MILITARY DOG RECEIVES ANIMAL VICTORIA CROSS
A military dog is to receive the animal equivalent of the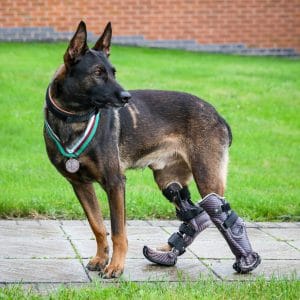 Victoria Cross for tackling Al Qaeda insurgents in Afghanistan as part of a Special Forces raid.
Kuno, a three-year-old Belgian Malinois, was wounded in action during the battle in 2019 whilst serving with the Special Boat Service. Pinned down by grenade and machine-gun fire during a compound assault, the elite troops were unable to move without taking casualties. Without hesitation, Kuno charged through a hail of gunfire to tackle the gunman, breaking the deadlock and changing the course of the attack, allowing the mission to be completed successfully.
During the assault Kuno was wounded by bullets in both back legs. He was given life-saving treatment by his handler and by medics in the back of a helicopter. His injuries were so severe he required several operations before he was stable enough to fly back to the UK. Part of one of Kuno's rear paws had to be amputated to prevent life-threatening infection.
Kuno returned home on an RAF plane, receiving in-flight care from a Royal Army Veterinary Corps team. He was transferred to the Defence Animal Training Regiment in Melton Mowbray, Leics, where he underwent extensive reconstructive surgery, overseen by Professor Dick White, one of the world's leading specialists in canine surgery.
He has become the first UK military working dog to be fitted with custom made prosthetic limbs.
Kuno, who was on his second deployment when he was injured, is the first UK military dog to be fitted with such devices. Lightweight and fully bespoke, they enable him to run and jump as he wishes. He is said to be thriving in his new home in the west country.
Colonel Neil Smith, the Chief Veterinary and Remount Officer, said: "It is important that Military Working Dogs receive a high level of care if they are unfortunately injured, and Defence has military vets and vet nurses to ensure animals receive the care and rehabilitation they deserve".
The Peoples Dispensary for Sick Animals (now known as PDSA) opened its first hospital in 1917. Since then it has treated millions of sick animals in the UK. The Dickin Medal was introduced by PDSA's founder, Maria Dickin, in 1943. It is recognised as the highest award any animal can achieve while serving in military conflict. Kuno will become the 72nd recipient of the PDSA Dickin Medal. Previous recipients include 34 dogs, 32 Second World War messenger pigeons, four horses and one cat. The PDSA Dickin Medal is a large, bronze medallion bearing the words "For Gallantry" and "We Also Serve" all within a laurel wreath. The ribbon is striped-green, dark brown and sky blue representing water, earth and air to symbolise the naval, land and air forces.
British Special Forces are still active in Afghanistan, partnering local forces in the fight against remnants of Al-Qaeda.
Defence Secretary Ben Wallace said: "Without Kuno, the course of this operation could have been very different, and it's clear he saved the lives of British personnel that day. This particular raid was one of the most significant achievements against Al Qaeda in several years.
"Kuno's story reminds us not only of the dedicated service of our soldiers and military dogs, but also the great care that the UK Armed Forces provide to the animals that serve alongside them."
Former Royal Marines dog handlers injured during their service have set up a dog hydrotherapy treatment centre to rehabilitate animals.
Pawseidon, based in Poole, Dorset, treats injured dogs in a five by four metre pool, or a treadmill in a water tank. They say the warm water and slight current that can be generated by submerged jets is ideal for helping injured animals or those recovering from surgery. The canine therapists sometimes play classical music and reggae during sessions as they found the sound can have a noticeable calming effect on some dogs.
When the Telegraph recently visited Pawseidon Nicky Stacey, from Poole, had brought her four-year old Great Dane weighing 90kg to the centre for treatment on inflamed joints. She said treatment in the pool to build up muscle tissue had clearly alleviated Thor's suffering."When I first brought him he was literally hiding behind me," she said. "But he's come on leaps and bounds. His confidence is through the roof at times…he's fantastic."
James Hill, 38, was shot multiple times in December 2013 during an operation in Afghanistan which left him with arthritis in his hip and a lower leg injury. He lost his military working dog, in the same action and eventually had to leave the RM due to his injuries having endured 16 operations.
He said: "Seeing dogs hurt now and seeing what we can do with the properties and power of water, it's unbelievable.
"What we do now is a bit pink and fluffy, but it's all about having a passion for animals and the satisfaction of helping dogs.
"There's a communication you have with animals through therapy and helping them and you can see that they really benefit from that and warm up to you.
"Even in pain dogs will stay loyal to their owners. They are stoic in their whole recovery journey and I really admire that.
"Dogs are great at reading our emotions and acting on them to comfort their owners, which in turn helps owners overcome that battle back to fitness."
Copyright © 2020 – Pawseidon Ltd